Chapman's Ice Cream, located in Markdale ON, has been a client of HR Systems Strategies for 10 years. Chapman's opened its doors in 1973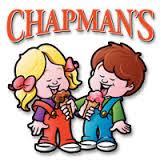 with four employees and is now Canada's largest independent ice cream company, employing close to 800 staff and distributing over 100 products coast to coast across Canada.
Jayne Kerr, Senior HR Manager, has been using info:HR for many years and is very experienced with HRIS implementations. More than once over her career Jayne has been charged with the task of moving organizations from paper-based HR tracking systems to electronic systems. Through her initial investigation at a previous employer she found HRSS.
Over the years, at Jayne's request, HRSS has developed custom reports in info:HR. "We have very unique reporting requirements and the staff at HRSS is always so helpful and knowledgeable," Jayne explained.

In the last year Chapman's has made the decision to change their payroll and time and attendance providers. Consequently, a new payroll interface is required to continue communication with info:HR. When the project is concluded the interface will operate bi- directionally: moving data from info:HR to the new payroll; and, attendance data will be brought back in to info:HR, completing the interface circle. "We share the information going one way or the other. It works very well. We are all looking at the same information about our employees, thus unifying our systems," Jayne said.

From interface data mapping to going live requires a good plan, time and patience for all involved. "Our systems have not been connected for some time now, and we really look forward to getting back to them working together. The staff at info:HR is great, following up with us and offering their assistance. We have just moved though a very busy season – now it is time to refocus." Chapman's is looking forward to the testing phase of the interface. "Both systems are great and it will be so beneficial to have them working together," Jayne added.

Although Chapman's has used info:HR for the better part of a decade, they are always looking to improve. Jayne has kept up on new features of info:HR and opportunities to automate their HR processes. Chapman's has provided info:HR access to managers, enabling production floor and office staff to share the same information, from making notes in the info:HR Comments section to uploading documents. They are now looking to launching Emails on Follow-ups. Getting the system to work harder and do more allows HR and payroll staff to focus on other tasks while keeping information current and up to date. "I am so excited about this feature; we have had an extraordinary summer season this year and it seems that there is no slowing down for us. This feature will be very helpful for us," Jayne remarked.

"info:HR is like a trusted old friend; reliable, and the information is always there."

Employee/Manager Self-Serve is a possible next step. "Our company is always looking for ways to increase automation. We will be investigating ESS in the future when the time is right."