First Nations Child and Family Services Agency selects info:HR, and Employee Self Service to automate HR functions
Toronto ON, July 31, 2017 – Kunuwanimano Child and Family Services is a Timmins based organization that values children and is respectful and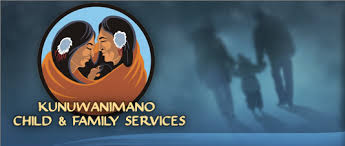 sensitive to their needs. Their mission is to work collaboratively with their First Nations members to ensure the safety and well-being of children by strengthening, supporting and encouraging the healthy development of families.
Like many organizations, Kunuwanimano had been tracking employee information using spreadsheets, manual methods, and using paper approval processes. The HR team knew there had to be a better way and with growth of the organization on the horizon, pressure was on to select and implement an automated online Human Resource Information System (HRIS) and say goodbye to the time-consuming, error-prone ways of the past.
"The organization needed software that would be able to grow with us – Kunuwanimano has more than doubled in size since initial implementation! – and be flexible to accommodate our ever-changing requirements," said Donna Woodrow, HR Manager. "Spreadsheets and paper files were not going to suffice any more. Reporting requirements could not be met in a timely manner, data was not centralized, and too much time was being spent on tasks that could be automated."

Donna arrived during the implementation of info:HR and the Employee/Manager Self Serve (ESS) module and jumped right in beside Jamie Stevens, HR Generalist at Kunuwanimano, the lead on the implementation project. "I have experience with other HRIS systems and I find info:HR very user-friendly and easy to use," remarked Donna.

The project was efficiently managed by the Kunuwanimano team, beginning with info:HR and then launching ESS to a pilot group of employees before expanding to the entire organization. "Our employees now have access to their entitlements and attendance data, creating accountability and providing our managers the ability to effectively monitor and manage their teams. There are fewer calls to the HR department with inquiries on entitlement balances, allowing us to focus on other projects," commented Donna.

"With all of our data centralized, reporting is much more efficient and accurate. We are able to produce a report in a couple of clicks now, when in the past it could take us hours or even days to collect the data. We are able to manage our attendance much more effectively. We are tracking training data and finally also uploading documents into the database. Quite simply, we are so much more efficient. Our goal is to eventually be paperless and we are well on our way to achieving that."
Andy Staniewski, President of HR Systems Strategies was enthusiastic in saying, "We are thrilled to count Kunuwanimano Child and Family Services as a client of ours. They are doing tremendous work in their community and for the children and families of First Nations Members. The HRSS team is privileged to contribute to their efforts any way that we can."
Kunuwanimano Child and Family Services, funded by the Ontario Ministry of Community and Social Services, began operations as a child and family services agency in 1989 serving the needs of children and families under Section X of the Child and Family Services Act. Their mission is to collaboratively work with their First Nations Members to ensure the safety and well-being of children by strengthening, supporting and encouraging the healthy development of families. They are committed to providing services in a manner that is holistically and bi-culturally appropriate for the First Nations.
HR Systems Strategies Inc. (HRSS) develops, implements, and maintains info:HR, a robust, general-purpose Human Resources Information System (HRIS). info:HR provides clients at over 250 organizations worldwide with user-friendly, robust and adaptable software solutions for today's human capital resource management challenges.
The core info:HR HRIS software system integrates with web modules to provide employee / manager self serve and online time-sheet entry capabilities. The software also interfaces with other operational systems such as payroll and time and attendance. info:HR is an easy-to-use, cost-effective and adaptable HRIS software solution for today's human capital resource management challenges. HRSS clients range from under 50 to over 10,000 employees in single and multiple locations across North America and around the world.
HRSS helps Human Resources organizations improve their HR operations and keep their total operating costs down. Small/medium businesses, not for profits, governments, healthcare organizations and others throughout Canada are reducing the cost and effort of HR administration by using info:HR.
For more information, please contact Bill Kennedy at 416-599-4747.